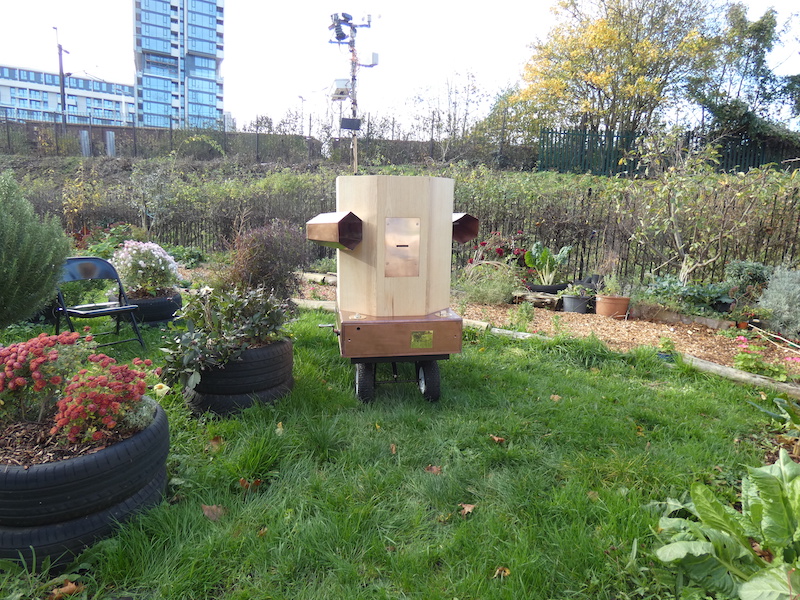 When the Future Comes is a series of artist's interventions each witnessed by a mysterious and mystical device – the Future Machine.
In February 2021 the project was awarded National Lottery Project Funding from the Arts Council of England, match funded by Horizon Digital Economy, University of Nottingham (ESPRC/RCUK).
This ambitious and long term project explores how site specific art, environmental science, technology, ritual, myth and storytelling can help us respond to environmental change in these uncertain times. The project is due to take place over the next 30 years with the Future Machine appearing in each place at the same time every year.
The Future Machine – is an interactive artwork that combines public involvement, digital systems, engineers, programmers, scientists and workshops. It has been built and launched in London and Nottingham.
Future Machine appears in 5 places across England – in an urban park in London, a public garden in inner city Nottingham, a quarry by a river and a river that meets the sea in post industrial Cumbria, a common in rural Oxfordshire, and in a village and on a cliff overlooking a nuclear power station in Somerset. A newly formed ritual or special occasion will emerge as the Future Machine appears in each place every year for the next 30 years.
The Future Machine will return to each place in London, Cumbria, Oxfordshire, Nottingham and Somerset annually.
Each of the interventions experiment with the different ways we can mark, interpret and respond to environmental change, creating supporting ways of looking at the future. These interventions ask questions about the importance of science, data, myth, art, and ritual to how we navigate the impact of environmental change in our everyday lives.
Creating Rituals For When The Future Comes follows on from Rachel Jacobs' and Active Ingredient's previous work including: Performing the Future which took place in 2017-18, The Prediction Machine which was built in 2015 and is continuing to tour nationally, Relate (Timestreams) and A Conversation Between Trees two international co-productions that took place across the UK and Brazil between 2011-2013.
Partners
Mixed Reality Lab and Horizon Digital Economy Research, University of Nottingham – Prof Steve Benford, Dominic Price, Jocelyn Spence
Institute of Mental Health, University of Nottingham – Prof Elvira Perez Vallejos
British Antarctic Survey – Prof John King, Robert Mulvaney
Furtherfield Gallery and Commons, Finsbury Park, London – Ruth Catlow
University of Bristol – Prof Esther Eidinow
Nottingham City Council
The Drumming School, Finsbury Park
Edible Landscapes, Finsbury Park
Pedal Power, Finsbury Park